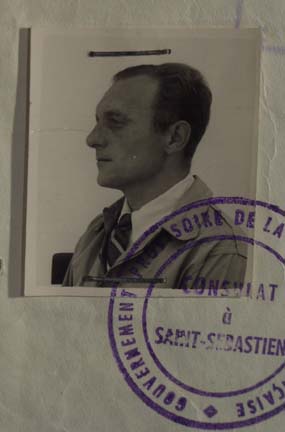 Dedicated to the many nameless volunteers
After Harry Fisher's book tour across Germany back in early 2001, quite a number of messages were relayed to him from Germans who had met him or who had read his book. Some of them were posted here on this Website.
Quite an interesting story that came out was that of German-American volunteer Fred Schofs.
Having read Harry Fisher's Comrades, Fred Schof's widow discovered Fred in one of the pictures of the book. There, he was shown as "unknown".
Despite serious attempts, Harry Fisher had told me, not all the names of those in the pictures could be found out.
We double-checked the background story with VALB and decided to go and see Mrs. Schofs. It turned out that her late husband was not mentioned in any German publications about the International Brigades, because he had indeed served with the Abraham-Lincoln-Battalion.
After the war, he had worked with the French underground, returned to fascist Spain, and was imprisoned at different concentration camps.
Mrs. Schofs also asked us to present her late husband's documents and memorabilia to "the place where they belong", to his U.S. comrades.
They have been in the possession of ALBA since May 1st, 2002 now and can be used for future reference. In our opinion, the story of Fred Schofs is yet another proof for the International Brigades being really international.